Royal Regiment of Scotland receives freedom of Stirling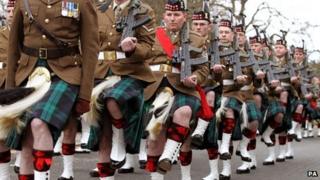 The Royal Regiment of Scotland has been given the freedom of the city of Stirling in a special ceremony.
The soldiers were awarded the civic honour in recognition of their services and strong links to the area.
Hundreds of people lined the streets to applaud the troops as they paraded before receiving the honour.
Provost Fergus Wood said: "It was a great day for the people of Stirling to come out and cheer on the Royal Regiment of Scotland."
He added: "We are very proud that Stirling bestowed this accolade on a regiment of such high esteem and with strong links to the area."
The "freedom of the city parade", led by a combined military and pipe band, began at 11:00 at Stirling Castle.
The troops then marched past the Albert Halls towards Old Viewforth.
Major James Anderson, spokesman for the regiment, said: "The Argyll and Sutherland Highlanders, one of the antecedent regiments that were merged to form the Royal Regiment of Scotland on 28 March 2006 still have their home headquarters in Stirling Castle and were given the freedom of the city in 1947.
"It is a great honour to participate in this parade that reaffirms the traditional links between Stirling and Scotland's infantry. This is particularly important at a time when many of our soldiers remain deployed on operations in Afghanistan and the drive to recruit more soldiers into exciting careers in the Territorial Army is gathering pace.
"I would like to thank the people of Stirling for their heartfelt welcome and positive support which has made it a hugely memorable day for all of the soldiers marching."
The Royal Regiment of Scotland is the senior Scottish line infantry regiment of the British Army.
It consists of five regular and two territorial battalions.
The newly-bestowed civic honour entitles the regiment to enter Stirling "with drums beating, colours flying, and bayonets fixed".
It dates back to the laws of ancient Rome, which made it a capital offence for Roman legions to enter the city in formation or with weapons without permission.