Hydro generation 'high' after warm and wet winter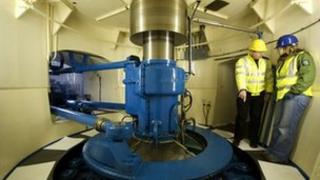 A wet and mild winter has contributed to record levels of energy production for many hydro power stations across Scotland.
Power company SSE said energy production for its conventional hydro plants was at its highest since records began in the 1930s.
The firm has more than 50 schemes in Highland, Perth and Kinross, and Argyll and Bute.
High rainfall and rapid snow melt were ideal for hydro electricity production.
Output this financial year has passed a previous record of 3,890 gigawatt hours (GWh).
SSE said the 2011/12 output was set to pass 4,000GWh, with four weeks of the financial year still to go.
As well as high rainfall during the winter, the warm temperatures in February - reaching 17.2C at Aberdeen Airport on Tuesday - have led to rapid snow melt, feeding the hydro schemes.
SSE managing director for generation, Paul Smith, said: "This all-time record for hydro electricity production is the result of our continued investment in refurbishment of our hydro schemes in the North of Scotland coupled with a particularly high amount of rainfall and snow melt in each hydro catchment.
"This investment and weather conditions that are ideal for hydro production has ensured the continuing success of hydro power as a valued source of renewable energy."