New £55m centre in Stirling for elderly care agreed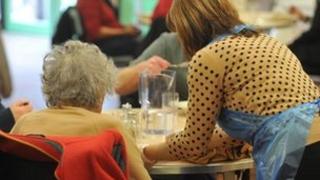 Plans have been unveiled to "transform" the way elderly people in the Forth Valley are cared for.
Stirling Council said it planned to develop a care "village" which brought together social, health and GP services on the same site.
NHS Forth Valley are also involved in the project, which could cost £55m.
The new centre will be developed at Stirling Community Hospital and will also offer staff training, supported by Forth Valley College.
All of the hospital's existing health services would continue to be offered, Stirling Council said. Minor injuries treatment, X-rays and out-of-hours GP services would be moved to new facilities at the site.
The centre would include a commercial housing development for the elderly, which would be available to buy, rent or partly-own.
Care 'revolution'
Graham Houston, Stirling Council leader and portfolio holder for health and social care, said: "Carers often stress about elderly relatives and recent documentaries highlighting poor care conditions in some care establishments only heighten these concerns.
"We have a unique opportunity, to not only meet the Scottish government's aspirations, but to ensure that here in Stirling we respect older people by providing great care in a modern facility with a professional workforce."
The plan was agreed at a Stirling Council meeting on Thursday. It is hoped the centre would be opened in 2016.
Tom Steele, from NHS Forth Valley, said the plan would "revolutionise" health and social care for elderly people in the area.
"Bringing these services together on a single site will reduce duplication, improve communication and make it far easier and quicker for older people to access the care and support they require," he said.
"It also has the potential to increase the number of older people who are able to live independently in their own homes."