Daughter's appeal in search for missing Elizabeth Stevenson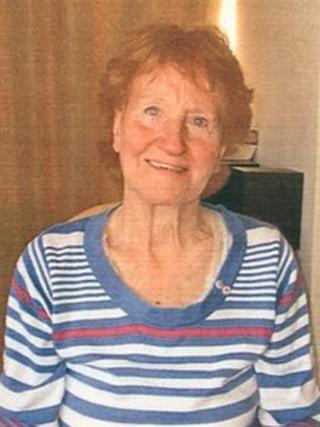 The daughter of a 77-year-old woman who has not been seen for a week has said she is "not giving up hope" of finding her mother safe and well.
Elizabeth Stevenson went missing from her home in Pitlochry, Perthshire, at 14:00 last Tuesday.
She has Alzheimer's and has been described as "extremely vulnerable".
Her daughter Fiona Kerr said: "It's just our heart's desire that somebody somewhere has got some information that'll lead to her safe return."
Dozens of police and local people have been searching the area for Ms Stevenson, known as Bett to her friends, during the past week.
She was last seen heading north along Atholl Road, near Dysart Brae, and much of the "extensive" search has concentrated around Faskally Bridge and along the River Garry.
Mrs Kerr said her mother had been planning to go shopping last Tuesday afternoon, but had perhaps forgotten and decided to go for a walk instead.
"There's a great will to find mum. She's well-known in the area, she's lived there for many years," Mrs Kerr told BBC Scotland.
"She's a popular local character and lots of people are used to seeing her going about Pitlochry.
"As well as the police searches I've had various contacts with people, saying: 'We were out for a walk with the dog and just thought we'd go round here because mum was sometimes seen walking in this area'."
Mrs Kerr said she had last seen her mother the day before she went missing when they met for lunch in Pitlochry.
She added: "It's now a week and your thoughts can't help but go in the wrong direction, but we're not giving up hope."
Ms Stevenson if 5ft 4in tall, slim, with blue eyes and red, jaw-length hair. She was last seen wearing a lightweight beige jacket, grey trousers and black boots.
Tayside Police have appealed to anyone with information about Ms Stevenson to contact them.