Russian diplomat arrested for drink driving freed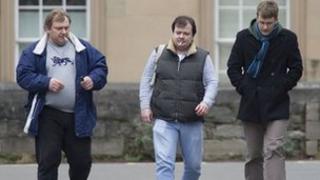 A Russian Embassy official has used diplomatic immunity to escape a court hearing after he was arrested for alleged drink driving.
Staff from the Russian Embassy in Edinburgh travelled to Perth to negotiate the release from custody of diplomatic worker Konstantin Istomin.
The 30-year-old was subsequently freed without facing any charges.
He was arrested in Kinross High Street on Wednesday evening on suspicion of drink driving.
A breath test by police officers suggested he was driving while more than double the legal limit.
Mr Istomin, whose address was given as the Russian Embassy, Edinburgh, was held in police cells in Perth overnight and was listed to appear from custody at the town's sheriff court on Thursday morning.
'Highly unusual'
He was scheduled to face a drink driving charge after giving a reading of 77 mics, compared to the legal limit of 35 mics. However, he was released after two men from the Embassy spoke to the procurator fiscal.
The pair then took Istomin from the back door of the court building to a waiting BMW before heading off without comment.
A Tayside Police source said: "It is a highly unusual situation. The guidelines say diplomatic staff should not be held in custody unless they present a danger to themselves or to the public.
"It was clearly felt that because of the reading he gave that there was no option but to lock him up, at least until he sobered up.
"People from the Russian Embassy arrived before he was due in court and were talking to the fiscal for some time. We were told he was getting released because he had diplomatic immunity."
The Russian Embassy will be written to in the wake of the incident and the Deputy Head of Mission will be asked to remind staff of the need to respect UK laws.
Criminal immunity
The Crown Prosecution Service has issued guidelines for similar cases based on the 1961 Vienna Convention on Diplomatic Relations (VCDR).
The CPS website says: "Diplomatic immunity in the UK is conferred on all entitled members of a foreign mission (and entitled family members forming part of their household, provided they are not nationals of the UK) who have been notified to, and accepted by, the Foreign and Commonwealth Office as performing a diplomatic function.
"Immunity is dependent on rank, and ranges from immunity from criminal and civil and administrative jurisdiction to immunity for official acts only. The VCDR obliges diplomats and their families to respect the laws and regulations of the host country.
"Without a waiver, a diplomatic agent, or dependant, may only be detained if deemed likely to harm either themselves or the public."
The Russian Embassy has made no comment in the incident.