Tallia Storm to open Elton John's Falkirk concert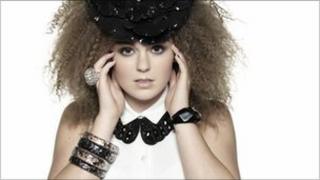 A Scottish teenager was asked by Elton John to open his Falkirk concert in June after he heard her singing.
Sir Elton called 13-year-old Tallia Storm on her mobile after listening to a CD she had given to the star's partner, David Furnish.
Soul singer Tallia said it was "surreal" to speak to Sir Elton, who was one of her musical heroes.
She will perform at the Falkirk Stadium concert on 10 June - the only Scottish date on Sir Elton's 2012 UK tour.
Tallia spotted Mr Furnish when she was on holiday abroad this Christmas and gave him a letter and CD to pass on to Sir Elton. The singer called her the following day.
The 13-year-old, from Killearn in Stirling, said: "I really didn't know what to say at first but he was so excited about my music and said he thought my signature was incredible.
"He was just so nice, warm and totally down to earth. We spoke a few times and then he called my mum that night to explain what he had in mind.
"I don't actually think I will take it all in until I am standing on his stage at Falkirk - someone will have to pinch me for sure."