Battle of Bannockburn visitor centre work to begin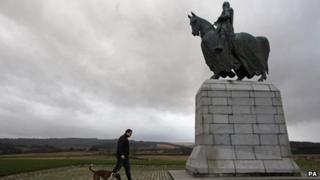 Construction work on a new visitor centre at the site of the battle of Bannockburn will begin in the summer, it has been confirmed.
The project was given a £3.9m Heritage Lottery Fund grant last week and also got £5m from the Scottish government.
It is hoped the new centre will open in time for the 700th anniversary of the battle in June 2014.
Contractors have been shortlisted for the building and landscaping work and the tender process is under way.
The construction schedule will see the current visitor centre demolished in the autumn.
'Fascinating period'
Historic Scotland and the National Trust for Scotland are working together to build the centre.
It will commemorate one of the most significant battles fought on British soil.
In 1314 Robert the Bruce beat the English forces of Edward II to establish freedom for Scotland.
First Minister Alex Salmond said: "2014 marks the 700th anniversary of the Battle of Bannockburn, and I am delighted to announce today a significant milestone in the commemoration of this fascinating period of Scottish history in what will be the most ambitious partnership between the National Trust for Scotland and Historic Scotland.
"It is exciting to confirm that landscaping and building work on the state-of-the-art visitor centre will commence in the summer, with work to conserve the historic monuments also due to begin in the coming months."
Mr Salmond said the project would pave the way for an "unrivalled experience".
"We intend to use the cutting edge of Scottish technology to bring the battle to life and showcase our history in a dramatic way," the first minister said.