Big Noise: Stirling Council to continue support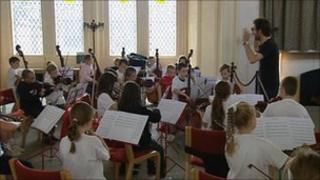 An orchestra set up on a Stirling housing scheme to help disadvantaged children has been given a boost after the local council agreed to continue backing the project.
It follows an independent report last year which said the Big Noise orchestra in Raploch had a "positive impact" on the children involved.
The orchestra was set up in 2008 as an early intervention programme.
It was inspired by the Venezuelan El Sistema scheme to help poorer children.
The programme uses music and the experience of being part of an orchestra to help improve long-term outcomes for children and families experiencing disadvantage.
It aims to foster confidence, teamwork, pride and aspiration in the children taking part and engage whole families and the wider community.
At a meeting on Friday, Stirling Council's executive unanimously agreed to continue the authority's partnership with Big Noise and charity Sistema Scotland.
Funding strategy
The council will now consider allocating transitional funding for the orchestra for 2012-13, when the initial five-year pilot period, funded largely by Sistema, comes to an end.
It will also explore options for a funding strategy to support the programme on an ongoing basis.
Stirling Council leader Graham Houston said: "I am delighted to see Stirling leading the way, in partnership with Sistema Scotland and the people of Raploch, in this pioneering project, which is making a positive difference to so many lives.
"The hope now must be that we can go on to share our experience with other areas across Scotland and beyond.
"Our commitment to Sistema Scotland and Big Noise stands strong."
Sistema Scotland chairman Richard Holloway said the partnership with Stirling Council had proved that the "revolutionary Venezuelan idea" could work in Scotland.
He added: "We always expected that after the initial five-year trial period, the local authority would pick up more of the funding responsibility.
"The independent evaluation published last year shows Big Noise is working, and because of it a whole community is shifting its outlook and ambition.
"Other communities in Scotland are clamouring to follow Stirling's brave lead, and we are planning to open new centres in the next few years."
Big Noise has been lined up to make a special guest appearance at an open air concert in Raploch in June as part of a performance by the Simon Bolivar Symphony Orchestra of Venezuela.
The concert, to mark the opening of the London 2012 Festival in Scotland, is being staged by Sistema Scotland in association with Creative Scotland, London 2012 Festival, Stirling Council, EventScotland and the Southbank Centre.