More cash pledged for Dundee V&A museum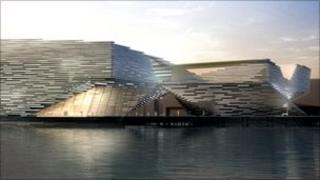 Scottish ministers have pledged another £1.75m to the V&A museum planned for Dundee's waterfront.
The money will be committed over the next three years.
It brings total Scottish government support for the project to more than £18m, including £15m of capital investment already confirmed.
The extra funding was announced by Culture Secretary Fiona Hyslop on a visit to the waterfront, where preparatory work began on Monday.
The £45m museum, which is located at Craig Harbour on the banks of the River Tay, is due to open in 2015.
Ms Hyslop said the new cash would be used to support key activities associated with the project, including fundraising, programming exhibitions, developing education programmes and working with designers and creative practitioners.
'Great benefits'
She continued: "The V&A at Dundee is an international cultural project which has the potential to bring great benefits to the city and the whole of Scotland.
"It will attract visitors from all over the world and presents an opportunity to strengthen Dundee's reputation as a centre for the creative industries.
"Our significant financial contribution will enable the V&A at Dundee - with its iconic waterfront building - to work towards opening in 2015, placing the project at the centre of Dundee's regeneration."
V&A director Philip Long said: "The culture secretary's announcement today assures that work can continue on the development of V&A at Dundee, from planning through to implementation and opening.
"V&A at Dundee will show major exhibitions of international design, celebrate our own design heritage, inspire and help develop contemporary talent, and encourage design innovation for the future. We are delighted to have the Scottish government's continuing wholehearted support for this vision."
The museum is being built in collaboration with the Victoria and Albert Museum in London.
Local partners in the project include the University of Dundee, the University of Abertay, Dundee City Council and Scottish Enterprise.
The museum is part of the £1bn Dundee waterfront project, which encompasses 240 hectares of development land stretching 8km along the River Tay.