Angus quarries given 30-year extension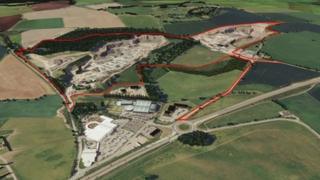 Planning permission has been granted which will extend the life of two quarries in Angus by three decades.
Angus Council approved the extension to the quarries at Ethiebeaton and Ardownie, near Monifieth.
It will eventually see the two quarries merging to create a single unit.
The extension means the operators can continue to produce crushed rock, asphalt, recycled aggregates and ready-mixed concrete for the next 30 years, at current rates of production.
Breedon Aggregates and The Geddes Group submitted a joint proposal to extend their quarries.
The two quarries will eventually merge but both companies will continue to operate as separate entities.
Alan MacKenzie, chief executive of Breedon Aggregates Scotland, said: "Angus Council has recognised that the Ethiebeaton and Ardownie quarries are key strategic assets to the area.
"Scotland's aim is to maintain a 10-year land bank for construction aggregates, of which an identified shortfall in the Angus and Dundee area has now been alleviated by this planning permission.
"Given the national importance of future infrastructure projects in Angus and the surrounding regions, we are delighted to be able to continue to play our part in serving those projects in the future."
The two sites jointly produce about 500,000 tonnes of crushed rock per annum.