Dundee emergency grenade from WWII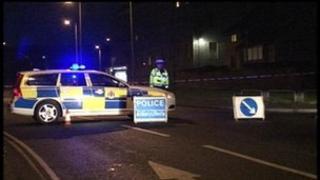 A grenade which sparked an emergency when it was handed to a police officer dated from World War II, the Army has said.
Residents in Dura Street, Dundee, were told to stay indoors and the road closed after the device was passed to an officer on Tuesday afternoon.
Army bomb disposal experts were called in and took the badly-corroded grenade away to destroy it elsewhere.
It had been dug up several years ago by a man in the local area, police said.
A family member found it on Tuesday and gave it to police.
The device was placed on waste ground as far away as possible from homes while bomb disposal experts travelled to the scene.
The Army Explosive Ordnance Disposal team removed the device and the incident was dealt with by the early evening.
An Army spokeswoman said: "It was a World War II grenade. It has been taken away and they will dispose of it in a place where it is safe to do so.
"There was no threat to the public."
Tayside Police said that if people come across what they believe to be a piece of ordnance, they should leave the suspicious item where it was and contact the authorities.