Mark Beaumont in bid to break Atlantic rowing record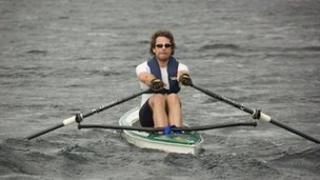 A crew of six rowers is to attempt to break one of the biggest challenges in ocean rowing, by crossing the Atlantic in under 30 days.
The team, which includes Perthshire adventurer Mark Beaumont, will set off from Morocco in early January.
They will row in repeated shifts of two hours on, two hours off, in a bid to break the record, which stands at 33 days.
Beaumont returned in August from a 450-mile (724km) row across the Arctic.
The 28-year-old originally became known for his cycling exploits, smashing the round the world cycle record by 81 days in 2008.
Two years later he completed his mammoth cycle journey from Alaska to the southern tip of Argentina.
'Big dream'
The crew of the 11-metre (36ft) "Sara G" will be led by Matt Craughwell, who has already completed the journey twice. They will row 3,000 miles (4,828km) from Tarfaya in Morocco to Barbados.
Beaumont said the mid-Atlantic rowing record was one of the most hotly contested achievements in the world of ocean rowing - sometimes described as "the four-minute mile" of the pursuit.
"For me rowing the Atlantic's been a dream for about four years now," he said.
"The big dream at the moment is to get the first sub-one month crossing."
The other members of the "Atlantic Odyssey" crew are Ian Lowe, Aodhán Kelly, Simon Brown and Yaacov Mutnikas.
They will row in teams of three, with no more than two hours break at a time for the entire trip.
Beaumont said: "That's one of the hardest parts. You never sleep for more than an hour, or an hour and a half, before you're back on the oars.
"You've got to get your food in. You've got to get all your logistics with your two hours off."
He added: "This will be absolutely non-stop - going for the record, going for the race."