Dundee solar deal 'sunk by subsidy cut'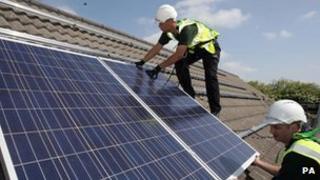 The UK government's decision to cut solar power subsidies has hit plans to install panels on 1,000 Dundee council houses, city leaders have said.
Grants for households which install solar panels were halved from 12 December.
The SNP-led Dundee City Council said three firms had pulled out of deals to provide the panels after the changes.
UK ministers have argued the old tariff of 43p per kilowatt-hour was unsustainable.
Under the "feed-in tariffs" programme, people with solar panels are paid for the electricity they generate.
The new tariff of 21p per kilowatt-hour had been expected to come into effect from 1 April, but in October the Westminster government said it would be paid to anyone who installed their solar panels after 12 December.
A report to Dundee City Council's policy and resources committee, which meets on Monday, said two of the three companies who had withdrawn from the deal were local.
Council finance spokesman Willie Sawers said it was a "short-sighted" decision which would have a negative impact on tenants and council tax payers.
"If this scheme had gone ahead, our tenants would have saved £100,000 in energy costs which would have helped reduce levels of fuel poverty in the city," he said.
"The city council would have benefited directly by saving on its annual electricity bill which would have helped towards achieving our council tax freeze."
Mr Sawers also warned that other schemes across Scotland could suffer similar fates, leading to job losses in the solar industry.
The UK government is holding a consultation on the change, but said it reflects falling solar panel prices.
On Thursday, A High Court judge ordered that a challenge to the government plans could go ahead next week.