Outplay Entertainment launches first titles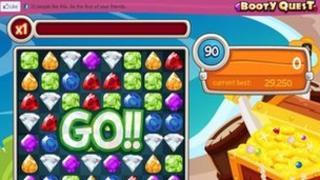 A video games company launched in Dundee earlier this year with the creation of 150 jobs has released its two debut titles.
Outplay Entertainment has developed two games - Word Trick and Booty Quest - for Facebook.
The company, which also announced new board members, specialises in games for mobile phones and social networks.
Outplay set up in Dundee just months after the city's digital economy was shaken by the Realtime Worlds collapse.
More than 150 people were made redundant in the UK when Realtime, founded by Lemmings and Grand Theft Auto creator Dave Jones, went into administration in August 2010.
'Turbocharged game'
Brothers Douglas and Richard Hare moved back to Scotland from the US in February 2011 to launch Outplay.
The pair started The Collective studio from California in 1997, which specialised in developing games for big franchise titles such as Star Wars and Indiana Jones.
But the brothers have said Outplay will focus on titles for the mobile gaming audience.
Outplay's debut title Word Trick was a "turbocharged crossword game with a twist", the company said, with Booty Quest a "Match-3 game", which gives players 90 seconds to race to the top the leaderboards.
As well as releasing the games, the firm also announced that former AOL Europe president Karen Thomson had been appointed to the Outplay board as non-executive chairman.
She will be joined by former LucasArts executive Randy Breen, who will be non-executive director.
Douglas Hare said the pair brought a "wealth of complementary experience and expertise" to the company.
"Karen's marketing background and track record with large-scale consumer-facing internet and mobile businesses combined with Randy's remarkable creative, production and business expertise will be invaluable to Outplay's ambitious growth plans for 2012 and beyond," he said.
"We are thrilled to have them onboard."