Clackmannanshire Council holds library book amnesty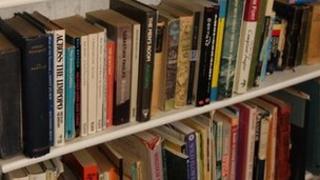 Scotland's smallest council has started a library book amnesty to get back more than 5,300 overdue books - including a guide to improving ones memory.
Clackmannanshire Council is taking the action as 5% of its 106,000 books are now beyond their return dates.
Some books are more than a year late, and a copy of Dante's 14th-century epic poem Divine Comedy was borrowed 14 years ago in 1997.
The amnesty lasts until 28 January 2011 in the council's eight libraries.
One overdue book that should have been returned months ago is Jonathan Hancock's "Maximise Your Memory". Books on magic have also vanished.
The authority said it would write off more than £500 worth of fines to get the books back.
Clackmannanshire has a population of just 50,540 - meaning about one in 10 of the population is holding an overdue book.
People returning late books will be able to drop them off free of charge in boxes being placed in all the libraries until 28 January.
Council chiefs said they "hope to retrieve a significant number of books through the amnesty".
A Clackmannanshire Council spokeswoman said: "Anyone with an overdue library book lurking around the house, will have the chance to return it free of charge.
"It will also mean that these titles become available for others and improves our book stock, so everybody benefits."
"According to our records the oldest overdue book - Dante's Hell Purgatory and Paradise - dates from 1997, so getting that one back would be great."
Rare books
The most popular theme among overdue books is true crime, with titles including "I'll Be Watching You: True Stories Of Stalkers And Their Victims" by Richard Gallagher, and "Beyond Belief: A Chronicle of Murder And It's Detection" by Emilyn Williams.
Other overdue books include the Harry Potter series, and Dan Brown thrillers including The Da Vinci Code.
But officials are also concerned about rare books and out of print editions.
Councillor Bobby McGill, the council's depute leader, added: "Only a small percentage of stock is currently overdue, but if it happens to be the particular title you're looking for it can be frustrating.
"Often people will inadvertently forget to return a book, then worry about having to pay a fine. This amnesty is a chance to bring them back free of charge."
The maximum fine on any one overdue item is 70p for adults and 50p for children.