Stirling reveals new motto after vote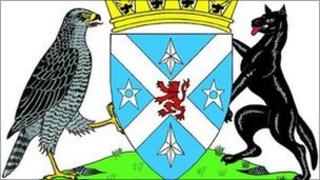 A Scottish council has unveiled the motto that will accompany its coat of arms.
Stirling's motto was chosen as "Steadfast as the rock" after residents were asked to vote on a phrase that summed up the area and its heritage.
The motto is a reference to the city of Stirling's famous castle, which is built on top of a rock.
The second option - "Heid high and gang forrit" - was only narrowly rejected, receiving 44% of the votes to 56%.
'Stand proud'
Stirling's coat of arms was granted by Lord Lyon King of Arms in 1997, but until now has never had a motto.
Provost Fergus Wood welcomed the unanimous decision of the council to adopt "Steadfast as the rock" as the new motto following the public vote.
He said: "I liked both options. The votes have been cast and our citizens have decided "Steadfast as the rock" is the new motto.
"This is a very wise choice as it links our area's well-known castle rock, with the people of Stirling who, like the rock, stand proud and steadfast. This all ties in very well as the new motto for the Coat of Arms."
Freedom fighters
Stirling's Civic Coat of Arms is decorated with two iron spikes and two spiked wheels of a horse's spurs, representing the Battle of Bannockburn in 1314, as well as a Lion Rampant on the shield indicating the close association of the Royal Stewarts with the Stirling area.
It also features a goshawk, representing the Drummonds, who were for centuries a principal local family, and a wolf, representing the 9th century legend of the howling wolf that saved the town from a Viking attack.
A spokeswoman for the council said: "Like their castle perched on a rock, the people of the Stirling area have stood proud and steadfast through the ages.
"Rock solid, loyal and resolute, like so many characters from our past, and like the troops who have fought for freedom all over the world over the years from their castle home."