Dundee tattoo project could help identify bodies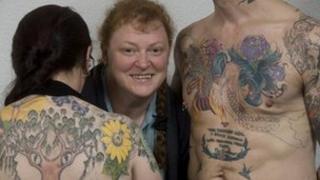 A university has appealed to people around the globe to email them pictures of their tattoos and piercings.
The images will go into a giant "body modification" database for use by forensic experts.
Dundee University said the project could help identify bodies by establishing tattoos or piercings common in specific areas.
Any pictures submitted to the Interpol database will be treated with "strict confidence".
'Signature' tattoos
Professor Sue Black, who leads the university's Centre for Anatomy and Human Identification, said the database could be very useful when trying to identify victims of a disaster, like the Asian Tsunami in 2004.
"What we are trying to do is create a classification system of body modifications which may aid in describing the wide variety of modifications seen," Professor Black said.
"This will help us to establish how common certain body mods - tattoo designs, piercings etc - are in different populations.
"Perhaps national or regional 'signature' tattoos may be found - a frequently seen design specific to Scots or even Dundee, for example."
The professor said a major incident like the Asian Tsunami left thousands of unidentified bodies, with investigators working to narrow down the possibilities by any means they could.
"If we can add body modifications to that list of parameters that allow us to successfully complete this hugely important process of identification then we will have added another major tool to the investigative process," she added.