Forth Valley Royal Hospital robots win health award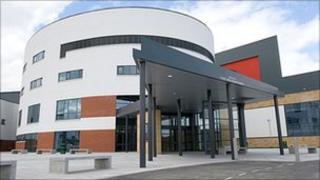 A £300m hospital in central Scotland featuring robots which patrol the service corridors has won an award for its design.
Judges said the use of robots at Forth Valley Royal Hospital for services like laundry and cleaning freed up frontline staff to work with patients.
The 860-bed hospital in Larbert, near Falkirk, admitted its first patients in August 2010.
It won estate management category in the Building Better Healthcare awards.
The hospital was officially opened by the Queen in July 2011 after the last transfer of services from Falkirk and Stirling infirmaries.
It is the first in the UK to use robots - or automated guidance vehicles - to carry out a range of tasks, including catering and waste disposal.
'New technology'
Robots in the hospital travel around a network of corridors that are completely separate from areas of the building used by staff, visitors and patients.
The award went jointly to NHS Forth Valley, facility managers Serco and other members of the project team.
Mike Mackay, from Serco, said: "This is the first use of such robots, which we call automated guidance vehicles, in a UK hospital, and we're delighted that the judges responded so positively to their use.
"We're also enormously grateful to NHS Forth Valley, which has had the confidence to allow us to pioneer such new technologies at the hospital, and it's very pleasing to see such recognition."
Ian Mullen, chairman NHS Forth Valley said: "Naturally we are delighted that the Forth Valley Royal Hospital has received this highly prestigious award."
He added that the award was a "strong endorsement" for being open to innovative solutions.