Lloyd Grossman botulism alert: Child allowed home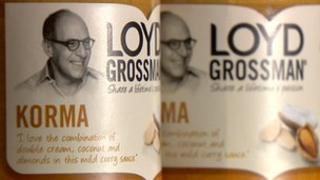 The third child in central Scotland to be admitted to hospital with suspected botulism has been allowed home, health officials have said.
Two siblings from the same family who also contracted the illness remain in hospital, though their condition is "improving".
All three cases have been linked to a single jar of Lloyd Grossman branded korma sauce.
NHS Forth Valley said no other cases had been reported.
The first two children were taken to the Royal Hospital for Sick Children on 13 November, with the third child admitted four days later.
TV presenter Lloyd Grossman was said to be "devastated" after the botulism poisoning cases came to light. The sauce was made by Premier Foods at its factory in Bury St Edmunds, Suffolk.
The Food Standards Agency has said its investigations at the factory had not revealed any contamination. Its inquiry is now focused on what happened during transport, storage and use of the product after it left the company's control.
It has warned people not to consume jars of Lloyd Grossman korma sauce in 350g jars with a best-before date of February 2013.
The batch code is: 1218R.
Premier Foods said a "precautionary recall" of the specific batch code had been ordered.