Force appoints Derek Penman as new chief constable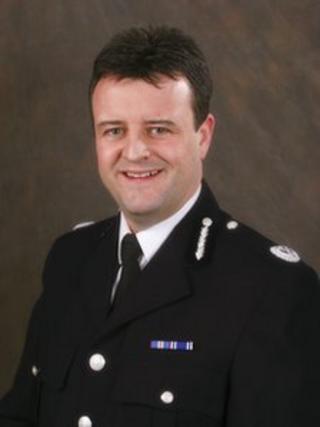 Central Scotland Police have appointed a new chief constable following the departure of Kevin Smith.
Derek Penman joined the force as a cadet in 1982 and has also worked at Grampian Police, returning to central Scotland in January 2011.
Two other senior appointments have been made by the joint police board, with new deputy and assistant chief constables.
Mr Smith is leaving to lead the restructuring of Scottish policing.
He said: "I've loved working in Central Scotland Police and must pay tribute to the dedication and loyalty of officers and staff who make it the successful force it is today, with a focus on keeping communities safe, driving down crime and continuously striving to improve and become more effective."
The joint police board thanked Mr Smith for his three years of service at the top of the force and said he had pushed "effective and visible community policing" to the fore.
Gordon Samson will take up the post of deputy chief constable, having previously been temporary assistant chief constable. Chief Superintendent Allan Moffat has been appointed assistant chief constable.
Central Scotland Police said all the moves had been approved by the Scottish government.
Chief Constable Penman was appointed assistant chief constable at Grampian Police in June 2009 and has held a number of of roles within the central Scotland force.
He said: "I would like to thank the joint police board for this opportunity at a time of significant change within the police service.
"Our aim moving forward is to be very firmly focused on delivering the best service we can for our communities."