Software shows dementia patient's biography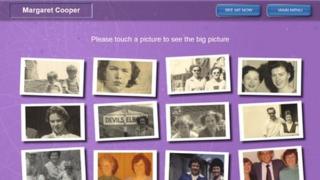 A Dundee PhD student has developed a computer program that helps dementia sufferers communicate with their carer.
Dr Gemma Webster, 25, created software that holds a "multimedia biography" of the patient which carers can access through a touchscreeen.
The computing researcher said it would help busy care staff learn about the people they were looking after.
Research Councils UK has awarded Dr Webster £10,000 to help promote her "Portrait" project.
The software holds a digital timeline of key events in a patient's life, along with a family tree and other personal information.
Dr Webster, who completed her PhD at Dundee in September, said her software would act as a "communications bridge", enabling carers to learn about patients' lives in a relatively short time.
"Establishing some form of communication between carers and people with dementia can have vital implications for their health and well-being," she said.
"Learning about a person's past may help the care-giver by providing interesting and important information from which to stimulate discussion and communication.
"This information can be difficult to obtain through patient records or discussions with family especially when the health or medical situation often takes priority, and that's where Portrait comes in."
Dr Webster, who has just taken up a post-doctoral position at Lancaster University, hopes the Research Council's funding will lead to care and nursing homes using the Portrait software.