Stirling farmers get snow ploughs to help clear roads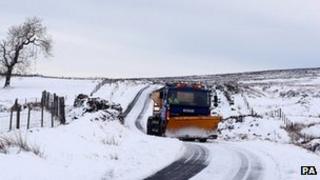 A local authority has spent £46,000 on snow ploughs for farmers to attach to their tractors so they can help keep the road network clear.
Stirling Council said it had struggled to keep minor roads ploughed during last year's harsh winter.
Twenty ploughs will be distributed to farmers in the Stirling area so they can be used immediately after snow has fallen.
Major roads will be cleared as usual by the council's 16 gritters.
The authority has used farmers to clear roads in the past, but this is the first time it has provided equipment for them to use.
Les Goodfellow, head of roads at Stirling Council, said it was important for the farmers to use ploughs that would not damage roads, rather than attempting to clear them with "inappropriate" blades.
"It's our responsibility to clear the roads and we have 16 gritters," he said.
"But what happened last year was a challenge. The amount of snow and the length of time it remained on the ground meant that we could only clear a certain percentage of the network.
"Bringing farmers in means we can clear much, much more of the road network."
'Quiet time'
The deal with the council has been negotiated by the farmers' co-operative, Tayforth Machinery Ring.
Bruce Hamilton, the organisation's managing director, said: "It is one of the best examples of co-operation there will be in tackling severe weather this winter.
"Basically our members get an additional income stream at a quiet time of the year on their farms and the council gets a quick and efficient snow clearing service."
Farmers from Drymen in the west, Balquidder in the north, Dunblane in the east and near Kirkintilloch, just south of the Stirling Council border, will be given the ploughs.
Mr Hamilton added: "This partnership will ensure that the correct equipment is used to clear snow thereby minimising damage to the road surface as well as ensuring that the farmers get a fair return."
As well as the ploughs for farmers, Stirling Council said it was investing £54,000 in 14 new snow blowers, footway snow clearing machines and 500 new shovels that will be available through community councils.