Two Forth Valley College students infected with TB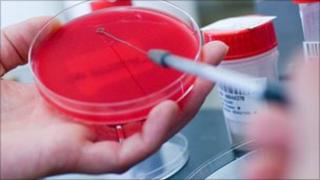 Two students at a central Scotland college have contracted tuberculosis, health officials have confirmed.
The cases at Forth Valley College's Falkirk campus are believed to be linked and involve two men, aged 18 and 20.
Forth Valley NHS said both of the men were receiving treatment and neither were infectious.
A number of teachers and students at the college, as well as family members, will be checked for the disease.
Leaflets with information and advice about TB will also be given out to the wider college community.
Close contact
The 18-year-old with the infection is from the Forth Valley area and the 20-year-old is from the Lothian area, the NHS said.
Dr Jennifer Champion, consultant in public health medicine, said: "There are around 400 cases of TB in Scotland every year and the vast majority are successfully treated with antibiotics.
"TB is not easily passed from person to person and therefore the risk of infection among people who have been in close contact with a case is low."
TB is a bacterial infection which usually affects the lungs, but can also develop in other parts of the body, such as the kidney or glands.
It can be spread when someone with the infection coughs or sneezes and another person breathes in the bacteria.
Health officials said "prolonged contact" was usually needed for infection to occur.
Symptoms include a coughing up blood or dirty spit, weight loss and chest tightness.