Inversnaid tent protest over cycle path route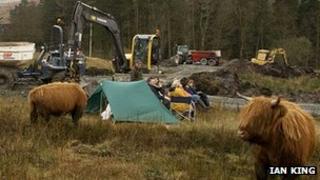 Protesters in a tiny hamlet on the banks of Loch Lomond are camping in front of diggers to halt the construction of a cycle path.
The path follows an 18th Century military road and is being built by Forestry Commission Scotland.
But residents in Inversnaid have complained it passes too close to homes and is an invasion of privacy.
The Forestry Commission said the six-mile route had been subject to a public consultation and approved by planners.
It will run from Inversnaid to Stronachlachar, on Loch Katrine.
Residents camped in front of the diggers early on Saturday morning to prevent further construction of the cycle path in a bid to reopen negotiations with Forestry Commission Scotland and Loch Lomond National Park planning officers.
Landscape 'scarred'
Andre Goulancourt, a local community councillor, said: "The cycle path is a community-led project in the first place, though we didn't quite envisage it on the scale the Forestry have made it.
"This particular objection is due to the path being brought very close to one house, which affects their privacy and outlook.
"All we're asking them to do is to move it 20 yards further away."
According to some local residents, other problems caused by the construction of the path included a "higher than expected scarring of the landscape" and damage to the only road into the hamlet.
Mr Goulancourt said residents had been promised further negotiations with Forestry Commission Scotland.
But a spokesman for the commission said the route had been approved by the Loch Lomond National Park after a consultation involving the local community.
"The route was put through a formal planning process and it was open to public consultation at that time," he said.
"During the initial consultation process we did get some comments from the local people who I think are complaining now and we did make some alterations to the plan."
The spokesman said the changes included planting trees to screen the cycle path from homes.