Joanna Findlay guilty of US murder bid charge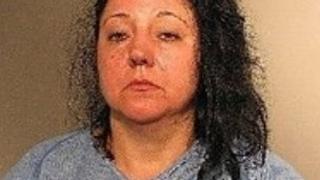 A Scots university lecturer has been convicted of attempting to kill her husband in their US home after finding child sex abuse images on his computer.
However, Joanna Findlay, from Blairgowrie in Perthshire, was cleared of her husband's murder by a jury, who concluded he had killed himself.
Findlay, 41, shot at her husband Gary Trogdon at their home in Hollywood, Maryland, on 30 October 2010.
She was released on bail, pending her sentence.
Prosecutors in Maryland said she could face up to 50 years in jail.
Five charges
Findlay was convicted of second degree attempted murder and a handgun charge following the death of her 55-year-old husband, a former US Air Force lieutenant colonel.
The judge at the Leonardtown courthouse allowed Findlay to remain free on bail, while a pre-sentence investigation was carried out.
It was reported the jurors were initially deadlocked after being asked to determine Findlay's guilt on five charges, ranging from assault to first degree murder.
They returned to the court so the judge could re-read them a summary of the case. An hour later the jury returned with its verdict.
Findlay moved away from Blairgowrie 15 years ago. She was a former Dundee College and Aberdeen University student.
She always maintained that her husband had turned his gun on himself after she confronted him.