Stirling Bridge surveyed by remote 'drone' aircraft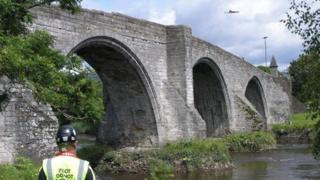 Architects have been using a remote-controlled "drone" aircraft to survey the historic Stirling Bridge.
The 500-year-old bridge has been suffering "severe problems" with water ingress, which is eroding the masonry.
A team from Historic Scotland, which looks after the four-arched structure, used the drone to assess what repair work needed to be done.
The bridge is near the site of the Battle of Stirling Bridge in 1297, when Scots forces defeated the English army.
Tom Gaze, Stirling district architect for Historic Scotland, said the water damage had come to light during a routine inspection of the bridge, which takes place every five or six years.
"We needed to assess this properly, but putting up scaffolding was quite expensive, so we got in touch with Cyberhawk, who provided us with the remote aircraft," he said.
The remotely operated aircraft has six propellers, which makes it very manoeuvrable and allows it to hover.
It also logs GPS data and provides a live video feed to the operator and architect. Mr Gaze said the technology allowed a survey to take place in a matter of hours rather than days.
"It's quite unusual, but a lot quicker and gets us a lot closer to the masonry on the bridge," the architect added.
"We will use scaffolding for repairs though."
Work on the bridge to fix the water ingress is due to start in the next few weeks.