Pair face jail over Dundee Facebook riot messages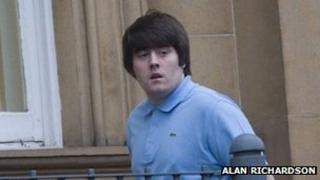 Two teenagers have been told they face jail after trying to start a riot in a Scottish city centre during the summer's unrest in England.
Shawn Divin, 16, and Jordan McGinley, 18, were administrators of a Facebook page called "Riot in the toon" which urged people to "kill some daftys".
More than 200 people signed up to the event, which encouraged people to riot in Dundee on 17 August.
The pair pled guilty to breaching the peace and will be sentenced later.
Dundee Sheriff Court heard that the Facebook page encouraged others to smash up buildings, loot shops and attack police officers at the height of the riots that swept several English cities.
Civil unrest
A message on the site written by Divin, who has convictions for assault and breach of the peace, stated: "Only join if yir actually gonna come - if anyone has guns bring them down to this - kill some daftys."
Police later arrested the pair - who both claimed it had been done "as a joke".
Fiscal depute Lisa Welsh told Dundee Sheriff Court that police had been tipped off about the site by a journalist at a Glasgow-based radio station.
She said: "Given the civil unrest around the country an inquiry team had been set up by Tayside Police in order to respond to such threats and the likelihood of rioting in Dundee.
"At the time 221 people had said they would attend this event and 68 said they would maybe attend."
Probation breach
Ms Welsh said other messages posted on Shawn Divin's Facebook page stated "Show the English how it's really done" and "If it does happen are you up for takin a police guy oot the game?".
Divin, 16, a prisoner at HMP Polmont, was remanded in custody. McGinley, 18, from Dundee is to remain on bail.
Jim Laverty, defending Divin, reserved his plea in mitigation to a later sentencing date.
Paul Parker Smith, for McGinley, said: "He comes to court today accompanied by his grandparents and a support worker from the social work department as this will breach his current probation order."
Sheriff Elizabeth Munro warned the pair they faced jail and ordered them to appear for sentencing in December.
Violence and looting gripped areas of London and the city centres of Manchester, Nottingham, Birmingham, Gloucester and other towns during the month of August.