Stirling Council's 'clear vision' praised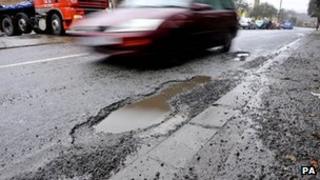 Inspectors have praised Stirling Council for its "strong leadership" and "clear vision".
The Accounts Commission said the authority had made "substantial progress" since its last audit in 2005.
But inspectors also highlighted areas for improvement, including roads, waste management and some aspects of social care.
The council also needs to focus on involving its employees more in its improvement work, the commission said.
Officer 'influence'
Accounts Commission chairman John Baillie said: "The commission is very encouraged by the strong collaborative leadership in the council between members and officers and across political groups, particularly given the delicate political balance.
"The commission welcomes the clarity of the council's vision and its good sense of self-awareness, which provides a sound basis for further improvement. We urge the council to maintain its momentum and progress."
The council is run by the SNP as a minority administration, despite the party having fewer councillors than Labour.
The report added the council had "good governance", but needed to assure itself that key officers had enough influence.
Stirling Council's chief executive Bob Jack said: "This is a positive report confirming that Stirling Council has made significant progress since our last audit and is performing well.
"I want to acknowledge the hard work of colleagues right across the council who have made this achievement possible."