Man jailed over Perth abduction threat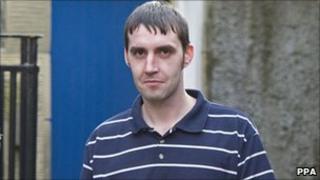 An armed robber who held a woman up just weeks after being released early from prison has been sentenced to 42 months in jail.
David Bacon subjected his victim to a "terrifying few minutes" in a Perth car park, telling her he was armed with a knife and threatening to abduct her.
Janette King was able get away after another vehicle drove into the Huntingtower Hotel car park.
Bacon, 26, admitted the attack, which took place on 27 July.
Perth Sheriff Court heard he had taken heroin, valium and drunk a crate of beer before the incident.
Sheriff Robert McCreadie said: "What a terrifying few minutes that must have been for that defenceless lady in that car park. She didn't know what was going to happen.
"This gentleman had only been released a few weeks earlier for an offence of assault and robbery. This offence was outrageous and must sicken every decent person in the community."
Bacon had been jailed for 16 months in October 2010 for an armed robbery. However, he had been freed from that sentence on 8 April this year.
'Really frightened'
The court was told Bacon stormed into Ms King's car and demanded money from her before telling her that she should drive him to the nearest cash machine.
Fiscal depute Charmaine Cole said the victim was an accounts manager who had been doing paperwork in her car after finishing a business meeting at the hotel.
"She was extremely surprised when her car door was opened by the accused. She hadn't seen him approach the car. The accused repeatedly demanded she give him £40.
"He said she should take him to the bank when she said she didn't have the money on her. She realised he was serious and began to get really frightened."
Ms Cole said Ms King had run over to another car driving into the car park. The accused then fled into nearby woods.
On 28 October 2010, Bacon was jailed for 16 months for holding up a shop where he was so well-known that he was able to ask the shop assistant by name to hand over the cash.
On that occasion, Bacon admitted running into the shop and saying: "Jason, I hate to do this, but I'm taking the money."