A9 crash death victim Cole Gibson donated his organs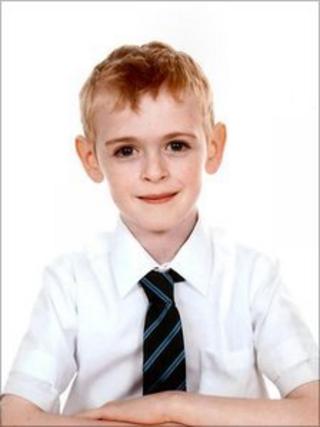 The mother of a seven-year-old boy who died in a crash on the A9 in Perthshire said donating his organs was helping her come to terms with her loss.
Hazel Gibson lost her partner Michael Joyce and her son Cole after the crash north of Bankfoot on Friday evening.
Ms Gibson, who is 17 weeks pregnant, was driving the car and was seriously injured in the collision.
She said knowing Cole's death was helping other children was helping her "in some way".
Mr Joyce, 31, from Edinburgh, died at the scene of the crash.
Seven-year-old Cole, from Lochgelly in Fife, died in hospital from his injuries on Sunday.
Ms Gibson, 29, was being treated in Ninewells Hospital in Dundee. Her condition was described as stable.
Her injuries include a fractured collar bone, back and pelvic bone.
She revealed that her son's organs had been made available for transplant.
'A miracle'
Speaking from hospital, she said: "Cole decided he wanted to be on the organ donor register when he was five years old, after he picked up a leaflet that came through the letterbox.
"Knowing that Cole's death is helping other children waiting for life-saving transplants is helping me in some way to come to terms with what has happened.
"Given what I've been through it's a miracle I haven't miscarried."
Two women, aged 18 and 19, who were in the other car involved in the collision were taken to hospital with minor injuries, but have since been discharged.
The road was closed for seven hours after the crash while emergency services and crash investigators worked at the scene.
Officers said a full investigation into the incident was continuing and appealed for witnesses to come forward.