Upper Tay legal action over rafting access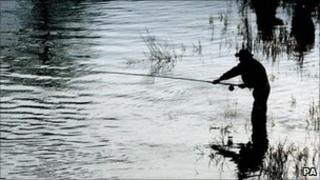 Landowners on the Upper Tay who believe "relentless" commercial rafting is destroying lucrative fishing grounds are to take legal action over access.
Anglers argue that increased rafting since the 2003 Land Reform Act has meant people no longer want to fish this stretch of river.
They have issued a writ asking a sheriff to enforce three consecutive raft-free days a week.
Some raft operators on the river already restrict rafting days.
The three-day measure was recommended by Perth and Kinross Local Access Forum.
'Unworkable' system
Landowners said the court action was being taken with "extreme reluctance", but claimed the commercial rafting activities were causing "excessive disturbance and noise".
Angus Crow, chairman of the Lower Grandtully Timeshares, said: "It is so sad that it has had to come to this.
"We have a shared interest in the river and have been working through the accepted channels allowed for within the access legislation, to hopefully reach an agreement which allows both the rafting and fishing business to flourish in this part of the river.
"As it is, the present system is unworkable and whilst the rafting businesses expand and improve in their profitability, the fishing interests are on their knees."
A writ seeking a ruling from the court is being served on Perth and Kinross Council.