Alva swimming pool sold by council for £1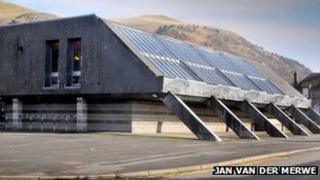 A swimming pool condemned by a local authority's budget cuts will be sold to a campaign group for £1 instead.
Alva pool was due to be demolished as part of Clackmannanshire Council's bid to save £8m this year.
The decision was taken at a budget meeting in February but has now been reversed by councillors.
It will be sold to Ochil Leisure Enterprises (OLE) who will also receive up to £100,000 from the council to run it for the community.
The council had identified that amount as the cost of demolishing the swimming pool.
Dozens of money-saving measures were outlined in February's budget, including wage freezes for council staff and postponing funding of the Ochil Landscape Partnership.
The amendment to the Alva pool decision was put forward by SNP councillor Donald Balsillie and has received cross-party support, with all councillors voting in favour.
'Big project'
It states that if, at a later date, OLE no longer wished to operate the complex, it should be transferred back to the council.
The organisation, which hopes to establish itself as a charity, was set up by Lucinda Kerr when the council announced the demolition plans in February.
She said the priority was now to get the pool reopened as soon as possible and appealed to the local community for support.
"We've now got to apply for all the funding - but we needed the building before we could apply for it," she said.
"This is the start of a big project."
OLE said a date for reopening the pool had yet to be decided.