Dean Geary death: Taxi driver 'lying' charges dropped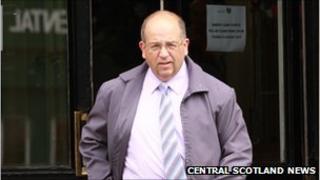 The Crown Office has dropped proceedings against a taxi driver accused of lying that a teenager killed in an accident had been murdered.
John Ross, 58, was charged with wasting police time after making allegations to officers probing the death of Dean Geary near Drymen in February 2010.
Police initially treated his death as suspicious but later concluded it was the result of an accidental collision.
A Crown Office spokesman said the case had been abandoned.
"On 2 November 2011 at Stirling Sheriff Court, proceedings against John Ross were discontinued as an essential Crown witness was unavailable due to ill health," the spokesman said.
"Further proceedings are not contemplated at this time."
Mr Ross, from Bishopbriggs, had been scheduled to appear for trial on Wednesday at Stirling Sheriff Court.
He faced a single charge - on summary complaint - of wasting police time and rendering the public liable to unjustified suspicion of murder, as a result of his false claims.
At a series of previous court hearings, sheriffs were told that the "essential witness" would be unavailable as he was suffering from cancer.
Mr Geary, from Alexandria, had been on a night out in Glasgow on the night before his death.
He was last seen by his friends at a nightclub in the city's Queen Street at about 0100 GMT on 7 February.
The 19-year-old, a Ministry of Defence administrator who worked at Coulport on Loch Long, was found with head injuries by the side of the A811 a few hours later.
Police first thought he had been the victim of an assault and a team of detectives spoke to taxi drivers and members of the public to try and establish what happened in his final hours.
But after an extensive investigation, Central Scotland Police said Mr Geary had been hit by a car in an accident.
The force said the death was not suspicious and no charges were brought as a result of the incident.
However, detectives are still not certain why Mr Geary came to be walking along the road where he was killed.