Police in Angus search for 'mystery' microlight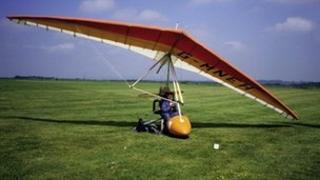 Tayside Police are carrying out a national search for missing pilots or aircraft after witnesses reported a plane ditching off the Angus coast.
Officers said they had contacted airports and flying clubs across the country in an attempt to "shed light" on the mystery.
An extensive search of the coast near Usan, Montrose, has been carried out.
The alarm was raised at 16:00 on Tuesday after witnesses reported that a small aircraft had hit the water.
Coastguard personnel and local lifeboat crews have been looking for the aircraft, as well as an RAF helicopter.
Witnesses 'convinced'
But police said the searches of the foreshore and waters had been "ultimately fruitless", with no evidence of wreckage.
Insp Mark McInally said: "As it stands just now, the incident is something of a mystery.
"Eye witnesses are absolutely convinced by what they have seen and yet we have no reports of any missing people or aircraft that would corroborate those reports."
The ditching was reported by a witness on shore and the crew of a fishing boat.
The police officer added: "Clearly, we remain concerned and are determined to establish exactly what may have happened. Anyone who knows someone whose interest or hobby involves flying should check their whereabouts.
"Could it be the case that this was someone who had journeyed to the area alone on a short break or holiday to enjoy this type of pursuit and loved ones remain unaware that they are missing? We're making every effort to get to the bottom of it."