Queen Victoria's big bloomers fetch £10,000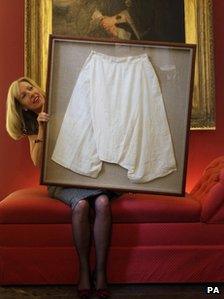 A large pair of silk bloomers that belonged to Queen Victoria have sold for more than three times their original estimate.
The undergarment, auctioned alongside hundreds of other royal artefacts, sold for £9,735.
Two pairs of silk stockings worn by Britain's longest serving monarch also went under the hammer in Edinburgh - one pair selling for more than £5,000.
The collection belonged to the US publishing dynasty, the Forbes family.
It had previously been held in Old Battersea House - the London home of the family.
More than £3m was made in the sale of Victorian treasures held by auctioneers Lyon and Turnbull at their Edinburgh salesroom.
Two paintings were sold for more than £500,000 each.
A painting by Sir John Everett Millais titled For The Squire went for £553,092. Another - The Princess Chained To A Tree by Sir Edward Burne-Jones - made £505,000.
And an oil painting of Queen Victoria and her faithful servant, John Brown, went for £145,250.
Nick Curnow, managing director at Lyon & Turnbull, said the 20in (50cm) by 24in (61cm) painting was particularly valuable, because it was a personal gift from the Queen to Mr Brown.
It depicts the pair on 26 August 1876, the year her servant celebrated his 50th birthday.
The sale also included more than 500 royal paintings, letters, furniture and other items from the Forbes home.
Simon Edsor, director of The Fine Art Society and art adviser to the Forbes family, said: "This is a great result and demonstrates how much interest from around the globe there is in royal memorabilia."
The Forbes family home hosted many public visitors over the years, including former US president Ronald Reagan and Hollywood star Dame Elizabeth Taylor.
The bed slept in by Dame Elizabeth and her eighth husband Larry Fortensky made £9,375.
Old Battersea House was bought and restored in 1970 by Malcolm Forbes and his son Christopher Forbes, vice-chairman of the Forbes publishing company, under the guidance of architect Vernon Gibberd.
Related Internet Links
The BBC is not responsible for the content of external sites.