Crime authors compete for Dundee morgue prize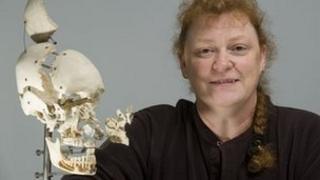 Ten leading crime writers are competing for the honour of having a new morgue at Dundee University named after them.
Crime fiction fans can vote for their favourite author online - with each vote contributing £1 to the appeal.
Dundee University has committed £1m to the project, but another £1m needs to be raised.
The new morgue will adopt a "revolutionary" way of embalming - called the Thiel method - which keeps bodies flexible for longer.
This gives medics and researchers a more realistic way of testing techniques and practising procedures, as well as developing new equipment and approaches.
Authors taking part in the "Million for a Morgue" campaign are: Tess Gerritsen, Kathy Reichs, Lee Child, Harlan Coben, Mark Billingham, Jeffrey Deaver, Jeff Lindsay, Stuart MacBride, Peter James and Val McDermid.
The author with the most public votes will have the morbid honour of a morgue being built with their name.
'Grisly detail'
The morgue will be part of Dundee's Centre for Anatomy and Human Identification (CAHID).
Professor Sue Black, CAHID director, said the authors involved in the project were an "amazing group of people".
"The work I have done with Val has always been very interesting and I am always happy to have been able to help," she said.
"To receive such enthusiastic support from Val and her fellow writers is tremendously gratifying and I cannot thank them enough for lending their support to this project."
Author McDermid said the professor's advice had often been useful when constructing the "grisly technical detail" in her book.
"She has this rare ability to put things in layman's terms," the crime writer said.
"I remember asking her what a body would look like once it had been in a peat bog for 200 years.
"There was a moment's silence on the phone and then she said: 'A leather bag with a face on'.
"And that was perfect because that gave me an image I could put in my book."