Senior Falkirk doctor caught with child porn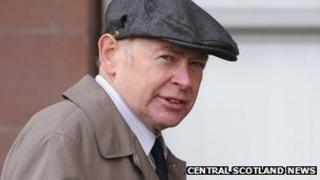 A senior doctor who raised money for charity by letting young families view his garden had admitted possessing indecent images of children.
Douglas Ramsay, 69, was caught after police came to his home to investigate a claim he had been covertly filming children playing and sunbathing.
Officers found 112 images of naked girls on Ramsay's computer.
The filming charges against the former consultant haematologist at Falkirk and Stirling hospitals were dropped.
Falkirk Sheriff Court heard that Ramsay had been viewed as a pillar of society, as he had raised thousands of pounds for Strathcarron Hospice by charging visitors to visit his garden.
'Erotic poses'
Graham McLachlan, prosecuting, said that police were "given information regarding activity that was taking place at the locus by a member of the public".
He said: "The police attended and spoke to the accused. He was quite co-operative.
"During the course of a search of his computer the police recovered some images of children aged 10 years old.
"The police described these images as being erotic poses. There were 112 images of naked young girls which were deemed at grade one on the relevant scale."
Ramsay, from Falkirk, admitted that on 3 October last year he had possession of indecent photographs.
'Happily married'
But the Crown accepted a plea of not guilty to a further charge that alleged Ramsay conducted himself in a disorderly manner between January 2006 and October 2010 by taking video footage of someone else's garden - without their consent - which recorded children.
Gordon Addison, defending, described Ramsay as "quiet" and "introverted".
He said: "These images were obtained from a naturist website.
"Some of these were images of family shots, people playing on the beach and children in a beauty parade.
"He is a retired consultant haematologist and has been happily married in excess of 40 years."
Sheriff Craig Caldwell put Ramsay on probation and the sex offenders' register for two years, as well as on the sex offenders' register for the same period.
Sheriff Caldwell said: "In every case involving this sort of offence it is difficult to understand why the individuals are motivated to behave the way they do.
"It is all the more difficult to understand why a successful, professional, man like yourself should become involved in this sort of behaviour.
"The risk assessment doesn't make very positive reading. You seem to show no insight into the plight of the children who appear in these photographs, or show any real regret for what happened."
Ramsay and his wife Anna were the first people in Falkirk to take part in Scotland's Garden Scheme - where people open up their gardens to raise money for charity.