Joking and pretending 'key to toddler learning'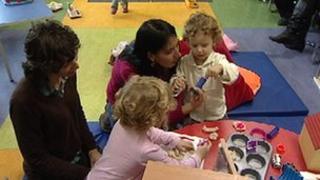 Parents who joke and pretend with their children are giving them a head start in life, researchers at Stirling University have found.
The study suggested that both activities are important in building social and life skills children need.
It also showed that pretending and joking are two very different things and that children as young as two can tell them apart.
The research will be presented at an event in Stirling on Saturday.
The work was funded by the Economic and Social Research Council (ESRC) and will form part of its annual Festival of Social Science.
Dr Elena Hoicka, of the university's Baby and Toddler Lab, said that children as young as 14 months can tell the difference between joking and pretending.
Dr Hoicka said that by reading facial and verbal cues they develops skills they will use into adulthood.
She said: "In later life with joking it's important for instance for attracting a mate, so women find funny men more attractive.
"It's important for making friends, so people who share the same sense of humour, they're going to have social bonds with each other.
"It's also important for coping with stress, so certain types of humour, seeing the funny things in life, that leads to people who can cope better, they are less depressed and so on.
"Pretending's a bit different, so early on it's suggested that young children can pretend to learn how to do things later on.
"So maybe they can pretend to cook then they learn how to cook, they can pretend to drive a car, that gives them skills to learn how to drive later."