Abertay University launches overseas scholarship fund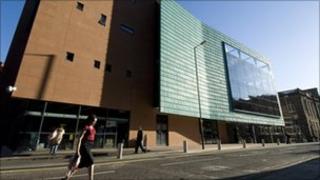 Scotland's smallest university has launched a £750,000 scholarship fund for overseas students.
Abertay University in Dundee said hundreds of young people around the world would benefit from the fund.
The scholarships for sports or music will be offered to students living outside the European Union and the European Free Trade Area.
They will be available to people enrolling to study at Abertay in September 2012.
The deadline for the first round of applications is 31 January 2012, but two more rounds will be held next year.
Professor Grahame Wright, director of recruitment at the university, said: "Abertay has a long history of attracting students from all over the world, and they have added enormously to the richness of the experience enjoyed by all our students.
"We hope these exciting new scholarships will attract hundreds more young achievers to Abertay, and we are confident that among them will be individuals who will not only benefit from the additional financial support but will be enabled to go on to great success in a variety of fields."
Students applying for one or more full years of study at Abertay - at either undergraduate or postgraduate level - will be eligible to apply for a scholarship.
Successful scholars will receive up to four years of funding.