Perth and Kinross child protection services lauded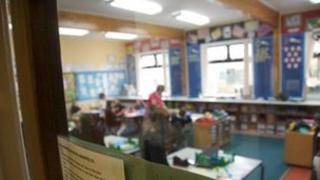 A local authority has been praised for "outstanding" child protection services which are among the best in Scotland.
The Care Inspectorate said Perth and Kinross council had an "extremely strong and ambitious vision".
A report highlighted six particular strengths, including "exceptional" leadership and direction.
Support for young people in the council area is provided jointly with Tayside Police, NHS Tayside and other voluntary organisations.
Inspectors also concluded that children and families benefited from an "outstanding level of individual support for as long as was needed".
'No complacency'
Perth and Kinross Council leader Ian Miller said: "It is excellent to have received such an exceptional report from the inspectors which recognises all the hard and dedicated work which goes on daily here in Perth and Kinross.
"The important thing for everyone to remember is that we all have a responsibility to make sure children are 'all right'.
"We and our partners will continue to do the very best we can to protect our young people. Of course we must never be complacent."
The Care Inspectorate said examples of good practice in the Perth and Kinross area included helping children affected by parental substance misuse and supporting young people who were recovering from the effects of abuse or neglect.
Karen Anderson, director of operations at the Care Inspectorate, said: "This report published today is primarily aimed at letting people in Perth and Kinross know just how well services in their area are working together to protect children and meet their needs.
"We are very pleased to recognise the outstanding work that is being done in Perth and Kinross and the extremely strong and ambitious vision for child protection held by chief officers and senior managers.
"However, there is no room for complacency and we are pleased that services are committed to continuous improvement and we look forward to working with them to support this vision."