'Merger row' Abertay University seeks new principal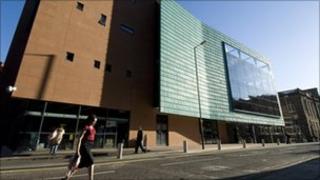 Abertay University has restarted its search for a new principal following a row over claims it could be forced to merge with Dundee University.
Last month the Scottish Funding Council asked Abertay to suspend its recruitment and evaluate its role, sparking speculation over its future.
A joint university and SFC statement said talks among the two bodies and Dundee University would continue.
It said the successful candidate would be expected to drive forward change.
The statement from the acting principal of Abertay, Prof Nicholas Terry, and SFC chief executive Mark Batho said "helpful" discussions had been held about the provision of post-16 education in Tayside, and that talks would continue.
It added: "The potential for future changes in post-16 provision will be made clear, as part of the recruitment process, so that any successful candidate will be expected to take a key role in driving forward changes that emerge from the proposed review process."
Close working
Education Secretary Mike Russell said: "I am pleased to hear there will be ongoing discussions around the shape of long-term provision of post-16 education in Tayside.
"This is very much in line with our Scotland-wide consultation which suggests closer working between universities.
"I have repeatedly made clear there will be no forced mergers and now we can put this speculation behind us."
Abertay has 4,250 students, making it one of the smallest universities in the UK, and it is located close to Dundee University, which has more than 17,000 students.
With only a minority of its income coming from sources such as research grants and overseas students, it depends on 60% of Scottish government funding.
On average, about 40% of Scottish universities' income comes from the government.