Dundee mother wins morning sickness sacking case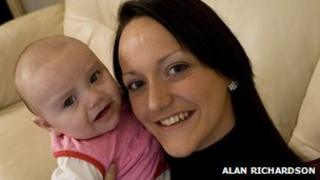 A young mother sacked for being pregnant has won her case for sexual discrimination.
Jillian Egginton, 21, from Dundee, was working at European Metal Recycling when she took time off because of constant morning sickness.
Doctors had warned Miss Egginton she may face a difficult pregnancy after suffering three miscarriages.
The company dismissed her after she was off sick for 26.5 days between November 2010 - February 2011.
The tribunal in Glasgow heard that Miss Egginton informed her manager in October 2010 that she was pregnant. The following month she was forced to take 11 days off because of severe sickness.
In December she fell ill again but she was unable to phone in sick because she had no money on her pay-as-you-go phone, the court was told.
'Projectile vomiting'
Miss Egginton, who started at the company in February 2010, said the sickness had lasted six months.
"It was really bad - I would have little warning and I would just start projectile vomiting," she told the court.
"It would also be coming out my nose. I felt absolutely ghastly and I was so weak.
"There were times when I would be in work and I would have to run outside the office so the customers didn't see me throw up.
"I never got any sick pay - I was totally broke. When I took ill in December I was unable to phone in."
In February this year she was sacked by the company for being off too many times with morning sickness and for not phoning in before 10:00 to report her absence, as required by company policy.
Her dismissal came despite a letter she sent to HR explaining her circumstances.
Miss Egginton said she was left devastated and was forced to move into her parents' house in Dundee as she could no longer afford the rent for her flat.
She said: "I was utterly shocked at their decision. I had a baby on the way and I didn't know what to do. I was so stressed out.
"I loved my job and I got on really well with everyone I worked with - I never thought the company would treat me this way."
A further hearing will be held to determine her compensation.
Miss Egginton gave birth to her daughter Lily in June.