'Mini-hydro' power scheme begins west of Stirling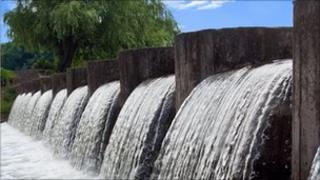 A "mini-hydro" power scheme using old waterworks in Scotland has started generating renewable energy in the hills west of Stirling.
Scottish Water began exploring the possibility of using Touch water treatment works for hydro power at the end of its working life.
It has now started generating for the National Grid following the installation of a 52kw turbine.
It aims to capture energy from water flowing down from hilltop reservoirs.
The scheme, run by Scottish Water's commercial and renewable energy business Horizons, has seen £400,000 invested.
It is hoped it will generate 300 MWh a year - enough to power 50 homes, and provide a return on the investment within 6 years.
'First of many'
Richard Allan, Scottish Water Horizons managing director, said: "It's great to see the Touch turbine going live as it's the first of hopefully many similar schemes.
"We are making best use of Scottish Water assets to contribute to a greener Scotland. While each site generates only a modest amount of power they all add up."
Horizons said it had analysed more than 200 Scottish Water sites and a number of these could be developed like Touch.
The reservoirs at Touch were created about 100 years ago.
They stopped being used for drinking water last year when Stirling was connected to the supply from Loch Turret treatment works in Perthshire, which also contains a hydro turbine.
Before the Touch turbine could start generating, a power export meter had to be installed and a licence was sought from Sepa (Scottish Environment Protection Agency). Advice was also taken from Stirling planners and the local landowner.