Roman artefacts found at Camelon Tesco site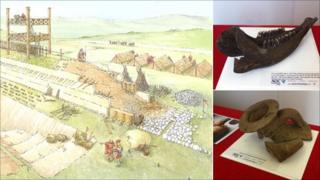 Archaeologists have uncovered evidence of at least two Roman forts at a supermarket construction site near Falkirk.
Artefacts including bones, jewellery and coins were discovered at the development in Camelon.
Contractors Barr Construction, who are currently building a Tesco store on the site, are to put the excavated items on public display.
Experts believe the forts date back to the first and second centuries AD.
Two other excavations at the site, one in the 1900s and the other in the 1970s also found evidence of Roman occupation.
Strategic location
Leather shoes, ceramics and ovens were found in this latest dig.
Martin Cook, chief archaeologist at the site, said the fort was at the north-west frontier of the Roman empire and would have had a significant strategic role, as well as being one of the most heavily populated areas of Scotland in Roman times.
"The Roman fort at Camelon would have been one of the most important forts in Scotland," he said.
"It had a port and was a central location in Scotland."
Mr Cook said his team had dug "less than 5%" of the fort, with plenty more artefacts to be found by future generations of archaeologists.
Project manager Craig Nairn, from Barr Construction, said witnessing the archaeologist's discoveries had "captured the imagination" of the teams involved in the Tesco project.
"We hope the history hut created by Barr with help from AOC Archaeologists, Falkirk Council and Tesco Stores Limited will give people a real chance to get a glimpse of life here in Roman times," he said.
All the items will be displayed in a portable cabin on the building site for a month.