Workers to learn Highland Toffee firm fate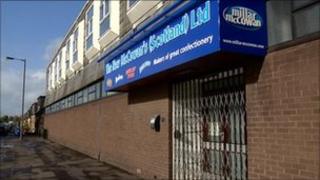 More than 100 workers at a factory making Highland Toffee have been called to a meeting on Monday to find out if their company will be saved.
Production at the New McCowans plant in Stenhousemuir was suspended after the firm went into administration.
But at least three investors are thought to have expressed an interest in buying the company.
One of them is Ambrosia Holdings, which rescued McCowans after it went into receivership in 2005.
Administrators Grant Thornton initially said it would meet the 103 workers at the factory and unions on Friday afternoon, but the meeting has now been postponed until after the weekend.
As well as Highland Toffee, the sweet makers also produce the Wham bar, Pan Drops and Bonbons.
There has been a McCowans factory at Stenhousemuir, Falkirk, since the 1920s, though the company has been taken over and resold on numerous occasions.
In August 2006, it was saved after a deal was struck with the UK arm of Ambrosia Holdings.
A spokesman for the investment company said on Thursday that he believed New McCowans was still a "viable business" with a "strong brand" and future in the confectionary business.