Garden therapy could bear fruit for dementia care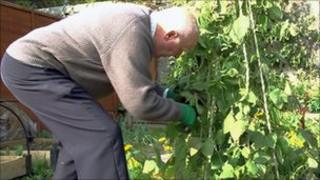 Dementia patients across the country may be spending 24 hours a day locked in hospital wards - an unacceptable regime even for convicted prisoners.
And there is concern too many people with dementia are kept under a chemical cosh - powerful drugs used to control behaviour.
But now growing numbers of experts say access to the outdoors, and physical activity such as gardening, could transform life for patients with conditions such as Alzheimer's or dementia.
Donald Stewart, 79, was diagnosed with Alzheimer's five years ago.
His wife raised the alarm when he was becoming more and more forgetful.
When a psychiatrist sent him for a brain scan, it confirmed he had the condition.
He has been gardening at the Potager Garden - a community garden in Kinross - for more than a year.
His wife, Catherine, says it has been a "god-send".
When Donald comes to the garden, she says, he "feels wanted and necessary".
She says: "He's done some woodwork painting, and things like that. Quite well, I believe."
Annie Pollock, landscape designer from the Dementia Services Development Centre at Stirling University, says it should not be surprising that core skills from Mr Stewart's lifetime of gardening remain, even as the disease takes away other aspects of his personality.
And she says there is plenty of evidence of the benefits outdoor activity such as gardening can have for people like him.
Ms Pollock says: "If you've got somebody being locked up for 24 hours a day - as seems to happen in some scenarios - they are going to be unhappy.
"They will present challenging behaviour. They probably won't sleep at night. They'll be frailer, and they will cost the system a lot more money to care for."
She adds: "Whereas people who are outside and active still can maintain an active interest in their environment, and their cognitive abilities decline slower."
'Powerful addition'
But Fiona Thackeray, from Trellis, a charity promoting therapeutic gardening which is organising a course on designing gardens for people with dementia, cautions that unlocking the garden gate does not necessarily mean you can keep the drugs cabinet closed.
She says: "We wouldn't argue that gardening is going to cure you, or take away all need for any other interventions.
"But it can be a really powerful addition, or complementary therapy, to any drug regime.
"It's a great physical activity so it's a good way to keep fit, or get fitter. Most people find it calms them down, it's a great stress reliever."
Ms Thackeray adds: "More and more we're seeing the importance of vitamin D.
"Although we don't have much sunlight in Scotland, if you're outdoors in the garden you're going to be boosting your vitamin D levels."
And, she says the sense of smell is a really strong trigger for memory.
Ms Thackeray says: "So what better place than a garden, with all the scented flowers and herbs, for people with dementia? It can help them think back to their past, and bring back positive memories."
Donald Stewart laughs as he says he likes going to the garden.
"It passes away the time", he says. "Gets you out of the house now again again, like."
He and his wife leave the garden with bags full of blackberries, beans, beetroot, and apples. The fruits of Donald's labours.
Catherine Stewart says a bramble and apple pie is "next on the agenda".
But the long-term benefits for Donald's health may be much more valuable - if rather harder to quantify.