Thieves steal portable office and toilet in Stirling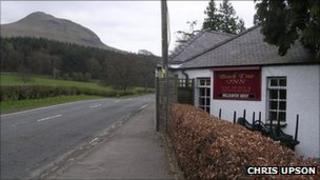 Thieves used a large vehicle with a crane to steal a portable toilet and temporary office from a Stirling Council yard.
The items, worth thousands of pounds, were taken from a locked site on the A81 at Dumgoyne.
Police said they were stolen sometime between Monday and Thursday.
The gates of the compound - used mainly by the authority's road maintenance department during the winter - were broken during the raid.
Central Scotland Police said the stolen cabin had office equipment inside and measured about 20ft (6m) by 10ft (3m) and was about 8ft (2.4m) high.
'Busy road'
It was white with blue legs and had steel shutters on the doors and windows.
PC Mark Harvey said; "Although in a quiet area, a large 'Hiab' style vehicle would have been required to lift these items and we feel certain that people would have seen them being removed.
"The site is adjacent to the local post office and near to the Beech Tree Inn which would both have had customers coming and going throughout the day.
"The A81 is also a relatively busy road, so we are asking to people to contact us if they have seen anything suspicious going on in or around the site."