Scottish choirs mark the 10th anniversary of 9/11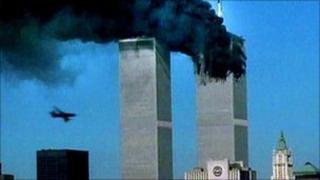 Three Scottish choirs will travel to New York to mark the 10th anniversary of the 11 September terror attacks.
Lothian and Borders Police Choir, Tayside Police Choir and InChorus, of Peebles, will feature in a number of events including the New York Police Department Commemoration Concert.
The 180-member choir group will perform a song written by conductor Andrew Russel.
The choirs have been fundraising for more than a year for the trip.
The group said it was a "gift" from Scotland to the people of New York to demonstrate their compassion for lives lost in the 2001 attacks on the World Trade Center in which almost 3,000 people died.
Privileged
The choirs will give free performances in various locations across Manhattan.
Mr Russel said: "It's a privilege and an honour to be contributing to such an important and sensitive anniversary, and the message we're bringing from Scotland with our presence and through this special musical arrangement is one of true empathy.''
He added: "We request nothing in return for our music.
''This is about openly expressing our support and we want the focus to be on the 9/11 memory and the solid message of hope for the future."
The choirs leave Edinburgh for New York on Wednesday morning.