Stirling Council hits out at Beauly-Denny line plan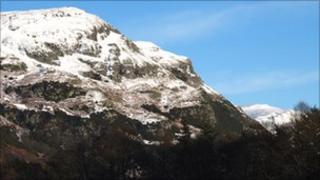 Stirling Council has said it is "extremely disappointed" at Scottish Power's latest refusal to bury parts of the Beauly-Denny power line.
Original proposals to limit the visual impact of the overhead line, which passes east of Stirling, were roundly rejected by the local community.
But Scottish Power last week repeated its position that undergrounding would be too expensive and delay the project.
The company was ordered in March to reconsider burying the line.
Scottish ministers approved the 440kv power line upgrade in January 2010. It will consist of a network of 600 pylons and connect renewable power generated in the north of Scotland to the national grid.
Findings disputed
When it gave permission for the project, the Scottish government asked Scottish Power to draw up plans to limit the visual impact of the power line.
The original mitigation proposals for the Stirling area included painting the towers a darker shade and planting greenery to screen them.
Then Energy Minister Jim Mather told the company to look again at burying the line after fierce opposition.
Callum Council, chair of the authority's Beauly-Denny steering group, said Scottish Power's latest proposals were "essentially the same" measures that had already been "unanimously rejected" by local communities.
He added: "Stirling Council have issues with SPT's [Scottish Power's] conclusions on the range of mitigation options considered and dispute the weighted assessments and findings.
'Technical difficulties'
"The council will challenge these during the forthcoming formal consultation with Scottish ministers."
Stirling Council said its position remained that burying line was the only form of effective mitigation.
Scottish Power considered 23 options to reduce the visual impact of the pylons had been considered.
But the company said last Tuesday that burying the main high power line would lead to a delay of up to three years and generate "significant" costs that would have to be passed onto consumers.
"The evaluation concluded that any undergrounding of the main 400kV line cannot be justified on the grounds of cost, technical difficulties and very limited environmental benefits," its report said.
A spokesman for the Scottish government said ministers would make a decision on Scottish Power's latest proposals after consulting with Stirling Council.