Grangemouth paedophile raped 14-month-old girl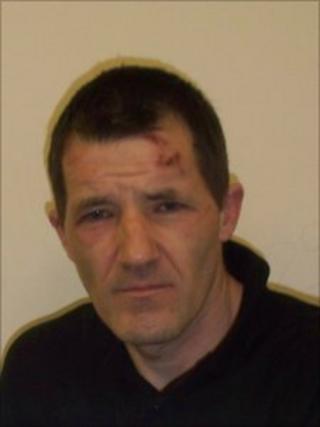 A man has admitted sexually abusing a 14-month-old girl, after being caught by an international investigation led by Central Scotland Police.
David Morrison, 45, admitted four charges at the High Court in Glasgow.
Evidence that Morrison had raped the child was built up through online chat logs, photographs and expert analysis of veins on his hands.
Morrison, from Grangemouth, also admitted taking, possessing and distributing images over the internet.
He will be sentenced in November.
Forensic examination of five hard drives taken from Morrison's home revealed that he had been in contact with paedophiles in 25 countries.
Det Insp Barry Blair of Central Scotland Police said: "This man is undoubtedly one of the most dangerous sexual predators we have ever investigated.
"We know that children in the Forth Valley area and beyond are considerably safer now he has been convicted at court of these despicable offences."
Expert analysts who assisted the police were able to identify the location in the image taken by Morrison as his home.
A hand which featured in the picture was found to be Morrison's after analysis of the pattern of veins on the back of his hand.
In total Morrison, who was unemployed, was found with more than 13,000 downloaded and uploaded images, including photographs and videos.
A number of the images were at the highest end of severity in terms of the graphic nature of the abuse depicted.
'Abhorrent offence'
The investigation, which was called Operation Malta, began in December 2010 after concerns had been raised with the police about Morrison's behaviour.
It has resulted in 15 other people being arrested in the UK alone.
Det Sgt Douglas Howie said: "Morrison was in contact with more than 200 people around the world through the internet, who were all like-minded individuals who were interested in the sexual abuse of young children.
"Morrison was carrying out sex abuse on a small child and posting those images around the world for the gratification of others.
"I cannot think of a more abhorrent offence."
The court heard a female friend of Morrison's discovered footage on his computer of a young girl being abused, but he initially denied any knowledge of it.
Last December, the same woman visited Morrison at his home and he told her that he had been fantasising about having sex in front of children.
The police were later contacted after the woman reported her fears and a search warrant was granted for Morrison's home.
Judge Lord Bonomy told Morrison: "From what I have been told I am satisfied on the basis of the behaviour narrated to me that it is likely that if you were at liberty you would pose a serious danger to the psychological well-being of other people."
He deferred sentencing on Morrison for reports until November at the High Court in Edinburgh.